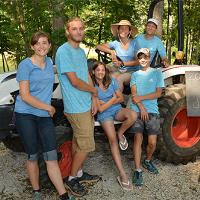 J & J Family Farm, LLC.
Contact: Jennifer Stalford
Address: Farm: 1077 Wayfield Rd., Clover 29710 Mailing: 5766 Natoma Road Clover, SC, 29710
Email Address: jstalford@comporium.net
Phone: 803-493-4020
About Us
J & J Family Farm is a 100-acre Certified Tree Farm in Clover, SC. We sustainably grow mushrooms, medicinal herbs, edible flowers, vegetables, fruits, and honey with a SC approved Honey House, & are part of the SC Certified Grown Program. Additionally, we offer firewood, educational classes, and a location for birthdays, schools and organization retreats.

Background: Master Tree Farmer, Master Gardener, Certified Beekeeper, Annie's Project Graduate, have a Forestry Management Plan, Stewardship Plan, Conservation Plan, Certified Pollinator Habitat and Certified Wildlife Habitat.
Practices
All food is sustainably grown naturally or organically.